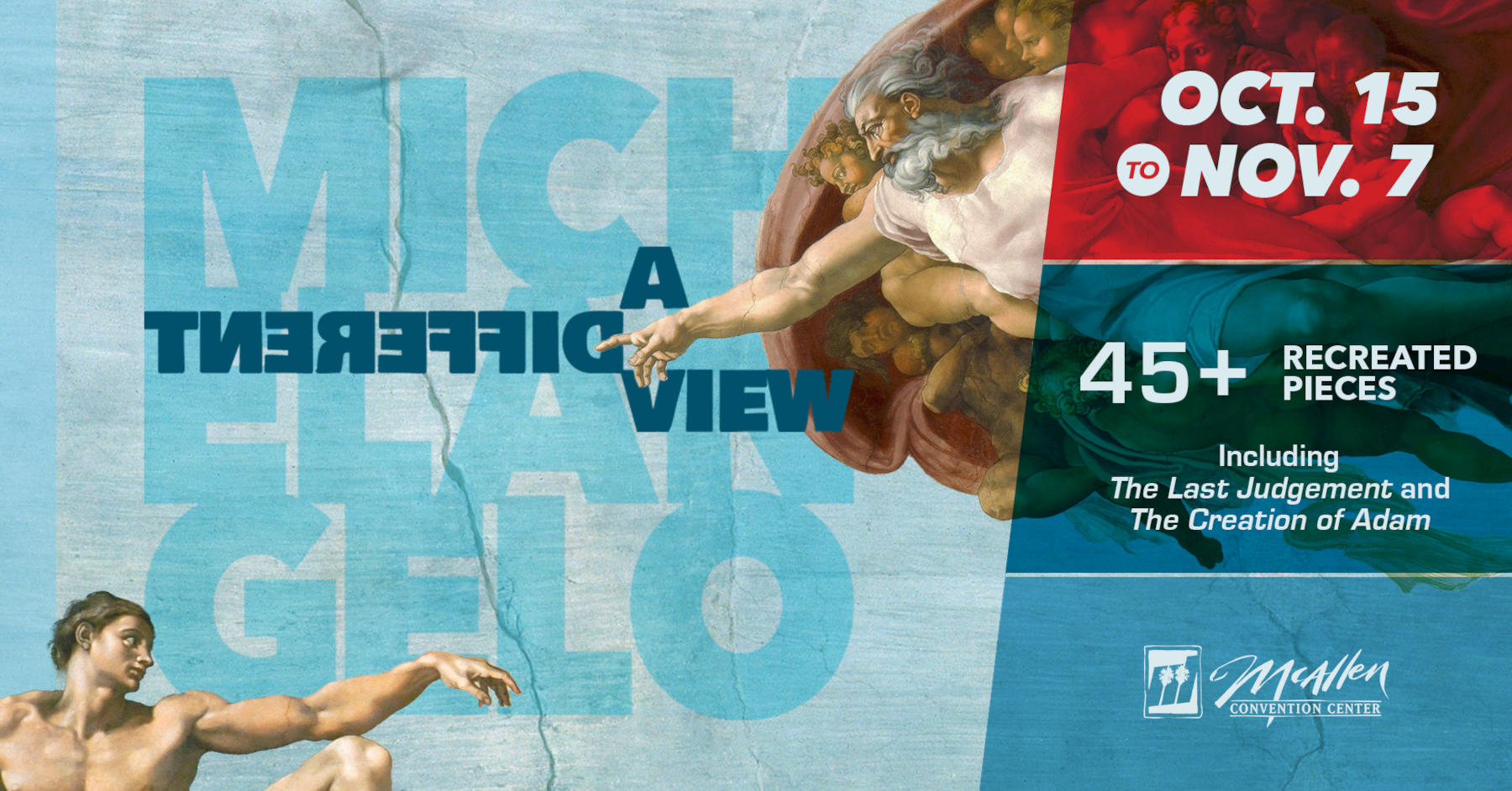 Michelangelo – A Different View
October 2021
McAllen Convention Center
Dates: October 15 – November 7th, 2021
The exhibition gives visitors unprecedented access to Michelangelo's magnificent paintings which adorn the ceiling of the Sistine Chapel in the Vatican.
This exhibition showcases the entire set of works in the Sistine Chapel and is officially licensed by the Vatican Museums. On 45+ pieces, including the most famous painting of them all — The Last Judgement, which covers the entire altar wall of the Sistine Chapel, and The Creation of Adam, a depiction of God giving life to the first man. It allows visitors to view the superb reproductions of the elaborate paintings from a short distance with no time constraints, meaning they will be able to fully appreciate their beauty and fine detail.
Where you have to look up in the Sistine Chapel, in the exhibition the masterpieces are on the ground, so that visitors can walk around the gigantic masterpieces, giving a unique "different view" of Michelangelo's masterpieces.
Under the license of the Vatican Museums, the images were reproduced and transferred to special fabric webs. This technique allows a true-to-life reproduction and gives a glimpse of the works, which, apart from Michelangelo, has so far been given to only a few people.
The so-called Quattrocento frescoes have adorned the walls of the Sistine Chapel since the 15th century. As an addition to – and to complete – the exhibition "Michelangelo – A DIFFERENT VIEW", these impressive frescoes await visitors in the entrance. The scenes from the life of Jesus and that of Moses painted by Sandro Botticelli, Pietro Perugino, Domenico Ghirlandaio and Cosimo Rosselli provide additional historical background and allow for a deeper insight into this epoch. Michelangelo encountered these works before starting work on the vaulted ceiling of the Sistine Chapel.
Tickets
Tickets are on sale at the McAllen Convention Center Box Office and Ticketmaster.com. Tickets are $17-$22 (Adult), $10 (Kids 6 – 12) and FREE (Children Under 6).
Where to Stay Nearby
Home2Suite by Hilton
525 S Ware Rd, McAllen, TX 78501
Cambria Hotel McAllen Convention Center
701 S Ware Rd, McAllen, TX 78501
La Quinta Inn & Suites by Wyndham McAllen Convention Center
801 S Ware Rd, McAllen, TX 78501
Embassy Suites by Hilton McAllen Convention Center
800 Convention Center Blvd, McAllen, TX 78501
Find more Things to Do in McAllen Texas by visiting our Event Page